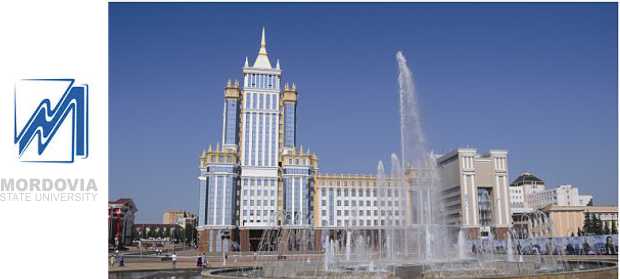 MORDOVIA STATE UNIVERSITY - RUSSIA
The Institute of Medicine is one of the leading departments of Mordovia State University in Mordovia - the largest educational, intellectual, scientific research and cultural center of Russia, largely determines the direction and pace of socio-economic, political and spiritual life of the region and country. Faculty of Medicine opened July 1, 1967 by the Ministry of Higher and Secondary Special Education of the RSFSR № 42 dated January 17, 1967. Annual enrollment is 175 students in the specialty "General Medicine". From the earliest days of the faculty are their own history and the oldest of the department - normal anatomy, normal physiology, histology, cytology and embryology. In 1969 he began teaching clinical subjects - propaedeutics internal medicine, general surgery and other bases for the teaching of clinical disciplines and the creation of clinical departments and courses became the largest hospital of the city and country. The first Dean was Professor GN Saraykin. In subsequent years the department was headed by Assistant Professors A. Belyakov (1968 - 1971 gg.), And VM Zaitsev (1974 - 1976 gg.), Professor VI Kireev (1976 - 1977 gg.). From 1977 to 1987. department headed by head of the department of normal anatomy, MD Professor Honored Scientist PM NM Ivanov, creator of the famous Russian anatomical museum. From 1987 to 2002 was dean of Honoured Doctor of the Russian Federation and the Republic of Mordovia, the Head of the Department of Faculty Therapy, Professor LK Fedotkina, from 2002 to 2008 - Professor, Department of Hospital Surgery, MD MD Romanov. From February 2008 to the post of director of the medical institution designated MD, Professor A. Usanova. Decision of the Academic Council of the University Faculty of Medicine was renamed the Medical Institute (2008). The training infrastructure is represented by 20 departments, divisions practical training of students, the regional educational, scientific and medical research complex. Postgraduate and additional education department provided clinical internship, the department of clinical internship, a center of advanced medicine and retraining. Trained medical staff carry 2 academicians and a corresponding member of RAMS, 8 academicians of public and foreign academies, 36 doctors, professors and 180 candidates of sciences, associate professors, 8 - Honored Scientist of Russia and Mordovia, 7 - Honored Worker of Higher School, 13 - distinguished physicians and Russia Mordovia. Members of the Board of All-Russian scientific and technical advice and scientific societies in Russia are 46 scientists, 42 - Presidents of scientific and medical societies and public institutions of Mordovia. The Institute of Medicine has adequate space, logistical and clinical base for training highly qualified specialists. There are four academic buildings, the class of Internet, computer and eight videoklassov, language laboratory, a library of medical literature, reading room, conference and sports facilities, ski lodge, dining room, a dormitory. Clinical departments and courses are located in major hospitals and Saransk Republic of Mordovia. Training of physicians in three specialties is - "Medicine" and "Pediatrics", in 2011, the specialty "Pharmacy". Currently, the institute has students from different regions of the Russian Federation, Armenia, Ukraine, Uzbekistan, Turkmenistan, Azerbaijan, Yemen, Germany, Pakistan, Egypt, India, Sri Lanka, Syria, Cameroon, Sudan and other institutions have recognized the World Directory of Medical schools (Geneva), The World of Learning (Fortysecond Edition) (United Kingdom & Ireland), accredited by the Medical Council of Sri Lanka. The quality and level of special training for students - medical department of the university is one of the best medical schools / institutions in Russia. Our graduates are working adequately in many regions of Russia and the United States, Britain, Germany, Israel, Guinea, Yemen, Australia, Tunisia, CIS, etc. The Institute implemented a system of continuing medical education (clinical internship, residency, postgraduate study, training and retraining of doctors). Training is conducted in a clinical internship in 22 specialties, clinical residency - to 25 specialties in graduate school - in 18 specialties, training and retraining - to education programs Continuing Professional Education 24 specialties. Total enrollment is approximately 2000, clinical interns - 150 medical residents - 150 graduate students - 70, students training center and retraining of doctors - more than 300 professionals. Every year in the post-graduate education are trained about 50 foreign specialists (specialties: cardiology, obstetrics and gynecology, dermatovenereology, otolaryngology, ophthalmology, functional diagnostics, surgery, neurology, internal medicine, traumatology and orthopedics, urology, etc.).
Scientific innovation infrastructure includes laboratories of departments and courses, the central research laboratory, vivarium, an anatomical museum, museums organopatologii and the History of Medicine, 14 research centers and other staff of the institute and students participate in the development and implementation of federal, regional and sectoral, interagency and international programs. The pride of the institute are schools of thought, leading the development of the efferent and quantum hematherapy in Surgery (Prof. JH Piksin) operational Combustiology and Critical Care Medicine (Prof. N. Belyaev) Pharmacology (Prof. VI Inchina) ; neuromorphology (Prof. M. Ivanov). Manpower training in their own graduate is 18, and doctoral - to 4 specialties. Since 1993 the Institute has specialized tips for doctoral and master's theses:
D 212.117.01 - in the field 03/03/04 - Cell biology, cytology, histology (biological sciences, medical sciences) and 14/03/01 - Human Anatomy (medical sciences);
D 212.117.08 - 01/14/17 specialties - Surgery (medical sciences) 03/14/03 - Physiopathology (medical sciences) and 14/03/06 - Pharmacology, Clinical Pharmacology (medical sciences). The medical-diagnostic and clinical staff work done on the basis of medical - diagnostic counseling center, 27 national and urban clinical health care settings. Students' Science is one of the priorities of the institute. Its diverse forms: participation in scientific circles in the theoretical and clinical departments, publication of scientific articles, making presentations at international and Russian scientific meetings, conferences, university-wide "Ogarevo reading" and young scientists, development and protection of research papers. Traditionally, medical students are actively involved in the All-Russia competitions of scientific works, and in 2004, rated a student's science department took the 4th place among all the medical schools of the country and a place among the medical schools of the Volga. Young scientists and physicians published scientific almanac "Medical foundation of life in normal and pathological experiment", which annex to the journal "Bulletin of the University of Mordovia."