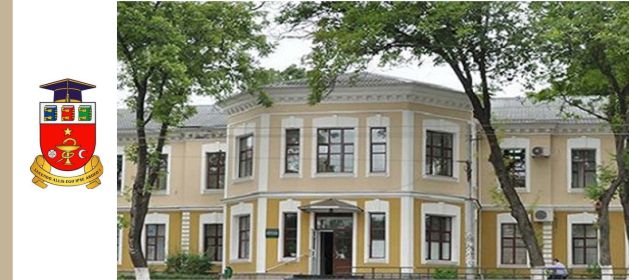 NICOLAE TESTEMITANU STATE UNIVERSITY OF MEDICINE - MOLDOVA
"Nicolae Testemitanu" State University of Medicine and Pharmacy of the Republic of Moldova is an institution of higher education, accredited at the national level (2001, 2007) assessed by international bodies (2001, 2005). It offers optimal conditions of university and post-university training of medical and pharmaceutical specialists through residency in conformity with demands of European educational space and international requirements, providing them subsequently with training through clinical internship, doctoral and post-doctoral courses and continuing training throughout the course of their practical activity.
The training process is closely related to research, provision of qualified medical care to population, popularization of modern achievements of medicine and pharmacy. Teaching and scientific capacities of SUMPh are remarkable for special expertise combined with knowledge of foreign languages and information technologies. The training strategy of the University springs from nice traditions of medical schools of the last century, but is focused continually on essential changes in methods of organization of higher medical education. The present reform of the curriculum that is in the process of implementation refers to a substantial renovation of syllabi, the use of new training offerings, application of the European System of transferable academic credits, implementation of information and modern communication technologies, advanced forms and methods in realization of the process of teaching-learning-evaluation. Students and residents have the possibility to be involved in research activity. Along with it they take the opportunity to master foreign languages of international communication, traineeships abroad, obtaining driver's license, participation in different sport, cultural events etc.
All these activities are based on developed material and technical resources, a rich collection of teaching and scientific medical publications, information resources, good living conditions for students, residents, lecturers. "I will apply, for the benefit of the sick, all measures and knowledge which are required, avoiding those twin traps of overtreatment and therapeutic nihilism. I will remember that I remain a member of society with special obligations to all my fellow human beings, those sound of mind and body as well as the infirm…" – these are the words from the Oath of Physician, which are said every year by more than 600 students from our country and the ones from about 25 countries of the world. Our University is recognized far beyond our country for the values it produced in the field of higher education, training, medical sciences, medical care to the population, spiritual culture. Being always faithful to the traditions of its founders, the University is involved in the nowadays processes such as sharing values with over 30 universities and medical centers of Romania, Russian Federation, Ukraine, Czech Republic, Slovakia, USA, France, Germany, Italy, Greece, Netherlands, Israel, and others, the fact that ensures mobility and offers the chance of self-assertion for the teaching staff and students. I invite you with pleasure to make a virtual tour through "Nicolae Testemitanu" State University of Medicine and Pharmacy,
Rector,
Professor, PhD,
Academician of ASM
Ion Ababii