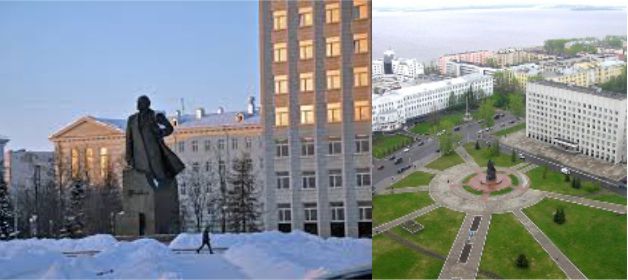 NORTHERN STATE MEDICAL UNIVERSITY - RUSSIA
The Northern State Medical University (NSMU) in Arkhangelsk center for most of NW Russia; Arkhangelsk oblast, Volgoda oblast, Murmansk oblast, Nenets okrug, Komi republic and Karelia republic. We have the agreement with 6 governors of North West Russia.
Nowadays about 5500 (8000 with PG) students study at the faculties. University buildings and clinics are provided with up-to-date equipment: computers, films and video aids, and other modern appliances. There are 55 departments, 27 of them are clinical based in the best clinics of the city. NSMU have the educational and scientific contacts and student exchange with universities of Scandinavia (Norway, Sweden, Finland), Central and Eastern Europe (Germany and Poland). From 1992 in the NSMU, foreign citizens are educated. First foreign students were citizens of India, Syria and Pakistan. Now, about 400 students from 17 foreign countries study in the NSMU. Before entering the university, these students complete the course of Russian and special subjects at the Preparatory Departments. From 1992 till now, more than 700 persons graduated from the Preparatory Department & English Medium Medical Course 95% of its graduates have entered the NSMU. During clinical studies, foreign citizens that have graduated form the NSMU and from other higher educational institutions of Russia receive certificates of specialities in different fields of medicine. The University is recognized by WHO (World Health Organization), ECFMG (USA), Eligible to practice in India as per MCI regulations. NSMU is member of AMSE (Association of Medical Schools of Europe). After passing degree from NSMU students are eligible for USMLE (USA) or PLEB (UK) Exams.
All our graduates apply their knowledge and skills acquired at the University in the field of healthcare. All the NSMU graduates pass different certification exams when applying for jobs at clinical establishments of any country of the world - from Europe to Australia. More than 100 graduates are working abroad, 15 have defended the PhD in foreign universities and scientific centers (Norway, Sweden, Poland, Germany and Finland). We are proud of our former medical students working in many clinics all around the world. At present our scientists including the young ones collaborate with leading experts from the European Universities and clinics as equals, take part in the international scientific projects, and they are among the experts of the World Health Organization.
Campus Facilities
Library (app. 400 000 editions)
Clinical base – more than 4000 beds
NSMU museum
University newspaper "Medic Severa"
Students Polyclinic, University Clinic
NSMU Sports and Wellness center (Ten sport gyms, sauna with pool)
Basis for the International Recognition:
More than 100 graduates of NSMU are working abroad (USA, UK, Canada, Israel, Norway, Sweden, Finland, Germany, Netherlands, Denmark etc)
19 graduates have the foreign scientific degrees (PhD)
About 20 graduates are preparing their PhD now in Norway, Sweden, Finland and Germany
The University offers students practical studies and training to become doctors, nurses, psychologists, specialists in social work, etc.
The graduates are working more than in 20 countries.
Number of international students in the NSMU is continuously growing.
Academic education and international activities
NSMU currently hosts around 300 international students. Clinical practice courses are offered in English, general medicine in Russian and now in English Medium.