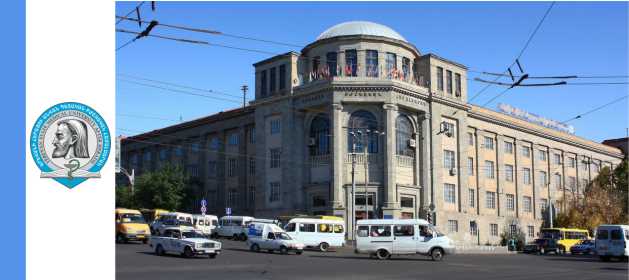 YEREVAN STATE MEDICAL UNIVERSITY - ARMENIA
Yerevan State Medical University is a higher state educational institution engaged in providing education within the fields of medicine, pharmacy, stomatology, public health and organizing fundamental scientific research.
University Brief Outline
Yerevan State Medical University (YSMU) is the leading institution of higher medical education in Armenia which was founded in 1920. It offers undergraduate and graduate education at six faculties: General Medicine, Stomatology, Pharmacy, Military Medicine, Public Health and Postgraduate and Continuing Education. YSMU is dedicated to training medical specialists being applicable to the essentials of the Republic of Armenia and many countries worldwide. YSMU provides education corresponding to the international educational standards, ensuring highest quality of professional knowledge and competitiveness of diplomas in the international arena. Currently over 5000 students are studying at YSMU various faculties. Multi-profile university clinical hospitals, radiology centre, outpatient clinics appear to be main facilities for YSMU personnel and students to practice and carry out the academic process, meanwhile promoting public health at large.
Since 2000 YSMU has a membership in a number of international organizations, namely: International Association of Universities (IAU), World Federation of Medical Education (WFME), as a member of Association of Medical Education in Europe (AMEE), International Federation of Medical Students Association (IFMSA), International Pharmaceutical Students Federation (IPSF), and Global Universities in Distance Education (GUIDE Association). Cooperation agreements have been signed between YSMU and a number of leading medical universities, clinics and hospitals in Europe and the US.
University Faculties
• There are six faculties at YSMU: General Medicine, Stomatology (Dentistry), Pharmacy, Military Medicine, Public Health, Postgraduate and Continuing Education.
• European Credit Transfer System enables student mobility and ensures 60 credits per year.
• The teaching is conducted in Armenian, Russian and English.
• Academic year at the university comprises 40 weeks divided into two terms.
Faculty of General Medicine
Degree awarded: Doctor of Medicine (MD)
Faculty of Stomatology (Dentistry)
Degree awarded: Doctor of Stomatology
Faculty of Pharmacy
Degree awarded: Master of Pharmacy
Faculty of Military Medicine
Degree awarded: Doctor of Medicine in Military Forces
Faculty of Public Health
Degree awarded: Epidemiologist, Hygienist, Public Health Specialist
Faculty of Postgraduate and Continuing Education
Degree awarded: according to specialization
Admission of International Students
Since 1957 foreign citizens have also been educated and trained in YSMU. Languages of instruction are Armenian, Russian and English. Applicants to Yerevan State Medical University must have high school or secondary professional education. Applicants should submit their documents to the embassy or consulates of the Republic of Armenia in the given country. All the required documents may also be sent via post to RA Ministry of Education and Science. The applicant is enrolled in the 1st year of the study having successfully passed entrance test exams in Physics, Chemistry, Biology. Those applicants, whose education is conducted in foreign language, should as well take exam in instruction language. Further information concerning admission requirements is available at www.ysmu.am
University Hostel
University Hostel is located in "Zeytun" district, from where the university campus and clinical facilities are easily reached within 10-15 minutes. The facility brings together students from various academic years and medical-related fields. Hostel is composed of two buildings; accommodations include rooms for 2 or 3 people. Hostel rooms are furnished with the necessary equipment and appliances. The hostel provides full accommodation facilities and premises spaces for various activities such as reading, watching television, etc.
University Scholarships
YSMU students are granted an opportunity to acquire various nominal scholarships. Nominees for the mentioned scholarships are chosen taking into consideration the following criteria:
• Absolute academic excellence
• Scientific publications
• Foreign language knowledge
• Participation in republican, international competitions, olympiads, student scientific sessions
• Participation in scientific and social activities of university faculties